Auschwitz-Birkenau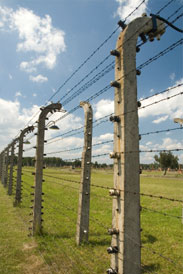 Auschwitz concentration camp is located in south of Poland about 70 km from Krakow – the journey takes about 1h 15 min. Auschwitz-Birkenau during the second World War was the largest German Nazi concentration and extermination camp, established in 1940 and quickly became the most horrible place of terror and people killing. In the years 1940 to 1945 the Nazis killed about 1,5 million people there/ about 1,5 million people was murdered there by Nazis. This Museum is visited by 500,000 people every year.
Our driver will pick You up from Your Hotel then will take You straight to Auschwitz Camp, where all the time he will be for Your disposal. You can visit the Camp by Yourself – the entrance is free charge or decide for a guided tour – driver will help with buying the tickets or manage the guide. Tour price include up to 4h at place (over included time +80pln/hour) then after the visit driver will take You straight back to Your Hotel in Krakow or any other destination of Your choice.
Auschwitz & Birkenau tour is also possible to organized with Wieliczka Salt Mine as one day tour.
Tour price include:
Fixed price for the service
Hotel pick-up and drop-off (door-to-door)
Private Mercedes car exclusively for You
Assist of our experience English speaking driver
All vehicle, fuel costs, and parking fees
Custom Tours
2 persons
3 persons
4 persons
5 - 6 persons
7 - 8 persons
9 and more
Auschwitz Birkenau

50 €

225 pln

35 €

160 pln

29 €

130 pln

26 €

110 pln

22 €

90 pln

Contact us
Auschwitz & Salt Mine

78 €

350 pln

54 €

240 pln

42 €

190 pln

36 €

160 pln

29 €

130 pln

Contact us
Auschwitz & Wadowice

78 €

350 pln

54 €

240 pln

42 €

190 pln

36 €

160 pln

29 €

130 pln

Contact us
* price per person
** addmission fee not included
GO BACK